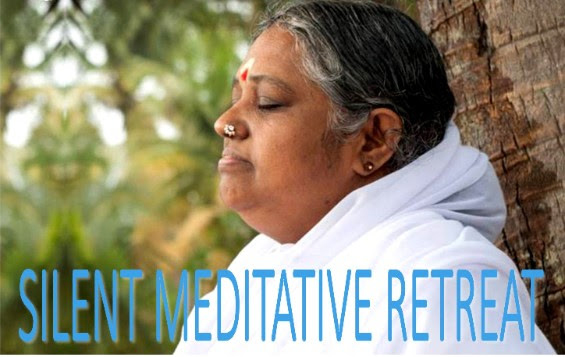 Meditative Silent Retreat March 9 – 12, 2018
This Silent Meditative Retreat reinforces existing spiritual practices and provides the foundation for a lifetime of meditation practice. Connecting with this sacred and ancient wisdom within ourselves brings meaning to life.
Amma's simple technique of breath awareness infused with the MA OM mantras and open observation makes this retreat suitable for all levels of experience in meditation from beginner to advanced. Meditation format includes guided meditation, silent seated meditation and silent walking meditation.
Book Your Retreat Today!
$150 with on-site accommodation
$75 without accommodation
On-site accommodation is limited. Book early to secure your spot!
Retreat is upon registration.
Venue: Amma's Melbourne Ashram
Registration: Retreat is by registration only.
Enquiries: Please email melbourne@ammaaustralia.org.au for more details.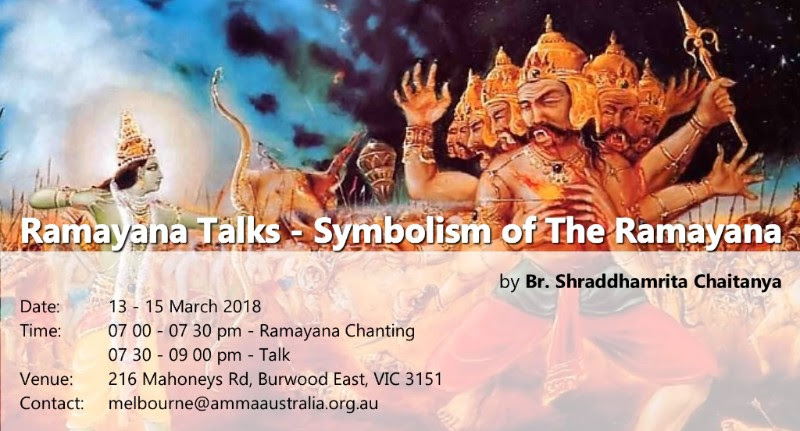 "Symbolism of Ramayana" Talks March 13 – 15, 2018
Understanding the mystic symbolism in this ancient text invokes devotion and spiritual knowledge, thereby deepening our spiritual practices and facilitating our spiritual progress.
7.00 pm – 7.30 pm    Ramayana Chanting
7.30 pm – 9.00 pm    Ramayana Talk
Venue: 216 Mahoneys Road, Burwood East.
Please email melbourne@ammaaustralia.org.au for more details.



Integrated Amrita Meditation Technique, March 13 & 15
A simple combination of yoga, pranayama and meditation. A synthesis of traditional, time-tested methods suited for the modern times.
March 13, 9.30am – 1.30pm
Venue: Noble Park
Contact: iammelbourne@ammaaustralia.org.au
March 15, 9.30am – 12.00pm
Venue: RMIT University, City Campus
Contact: Nava 0415 966 375