[button link="https://www.facebook.com/gfSydEcoMeditation/app/100265896690345/" color="default" size="large" stretch="" type="" shape="" target="_self" title="" gradient_colors="|" gradient_hover_colors="|" accent_color="" accent_hover_color="" bevel_color="" border_width="" icon="" icon_position="left" icon_divider="no" modal="" animation_type="0″ animation_direction="left" animation_speed="1″ animation_offset="" alignment="" class="" id=""]Join the Eco-Meditation Mailing List[/button]
Saturday Morning in Centennial Park Sydney. On the fourth Saturday of every month people gather to do some yoga stretches and meditate on the beauty of nature around them. After Chai and chat they work together for the environment, cleaning, weeding, planting. A beautiful and fulfilling way to start your day!
Eco meditation is an ideal way to become aware of the natural world around us.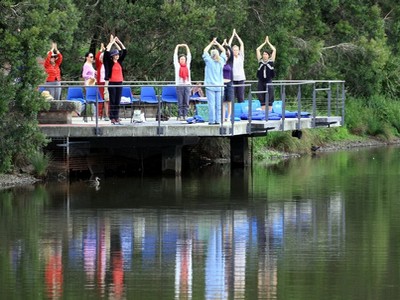 Learn and practice Eco Meditation and experience the benefits.
These free sessions, run by Greenfriends Sydney, are held from 8.00 am – 9.00 am on the fourth Saturday of the month. Each meditation session begins with some light stretching and concludes with Chai and chat. You are also invited to participate in a one-hour clean-up after each meditation, including light jobs such as cleaning, watering, litter collection, planting).
Greenfriends Sydney invites you to join in a program that
"inspires love for nature and reinforces the truth that humanity is not different from nature. The life force that pulsates in the trees, plants and animals is the same life force that pulsates within us. The same life energy that gives us the power to speak and to sing is the power behind the song of the bird… nature is not separate from ourselves. Eco meditation helps to re-establish this connection, and that connection is healing."
Greenfriends Sydney have put together a short video of Eco Meditation:
[youtube id="ST6cQBtKHxo" width="600″ height="350″ autoplay="no" api_params="" class=""][/youtube][fusion_widget_area name="avada-custom-sidebar-ecomeditationfacebookpage" background_color="" padding="" class="" id=""][/fusion_widget_area]
General Information
Dates: Held on the fourth Saturday of each month.
Age: All welcome
Times: 8.00 am – 9.00 am
Venue: The Learning Centre in the Education Precinct, off Dickens Drive, Centennial Park
Price: Free
Contact: gfsydney@ammaaustralia.org.au
Special Notes
Meditation will take place outside in nature in the area surrounding the Learning Centre or if inclement weather will be held on the veranda or indoors at the Learning Centre.
Participants can meditate either sitting in chairs or sitting on the ground.
Bring comfortable blanket or pillow if you wish to sit on the ground and wear comfortable clothes.
If you are volunteering afterwards please wear covered shoes.